LAJC Summer Festival (Part 2)
Sunday, August 24 9pm
bluewhale
Joon Lee, Putter Smith, Joey Sellers
Peter Schlamb Group
Michael Mull Octet
Sunday looks to have quite a different feel from Saturday's lineup, but no less interesting:
Joon Lee, voice
Putter Smith, bass
Joey Sellers, trombone
From Wikipedia: Lee Chang-sun, better known by his stage name Lee Joon is a South Korean idol singer, dancer, actor, model and member of the Korean male group MBLAQ, currently active in South Korea. He is currently signed to J. Tune Camp.
I can't believe we landed an international pop star to headline our little jazz festival!  This will certainly help draw attention to our mission to create a stronger jazz community.  Oh wait a minute...
This is actually the guy, my mistake.  As you can see he's much better looking than that other dude.  And even though he might not have his pop-idol namesake's abdominal muscles, what Joon Lee does have is something of far greater value: an unquenchable passion for jazz, impeccable taste in everything from music to art to design, and oh yeah, unequivocally one of the best jazz clubs in the world.   Kidding aside, Joon has actually become kind of a celebrity in the jazz community in and out of Los Angeles.  I don't think there's a single influential jazz musician who doesn't know at least the name Joon Lee, if not the man himself.  He's done as much to advance the cause of jazz in this city as anyone in the last decade, and when it's all said and done, he could be mentioned in the same breath as the most hallowed of jazz promoters in history, names like Quincy Jones and Norman Granz.  Certainly he is at least in the same sphere of influence of current movers and shakers like Herb Alpert, Ruth Price, Jeff Gauthier and Rocco Somazzi.  With a brain trust of individuals like those people dedicated to pushing this music forward into greater public awareness, there is much to be hopeful about, and at the center of all the buzz is bluewhale, this incredible club born from the dreams of one Joon Lee.
What many might not know about Joon are what prompted those dreams in the first place.  Joon was an architecture student in New York when he first heard in a coffee shop a duo recording of Bobby McFerrin and Chick Corea.  That fateful moment would forever change his life, as he was compelled to drop out of school and learn how to sing jazz, making his way to Los Angeles and making history when his deep love for music and for those who do it well compelled him to open bluewhale.
Owning and operating a club is a labor of love, and it's also a cruel fate not suitable for even the most depraved of souls, and Joon has soldered on, fighting the good fight at the expense of downplaying his singing career.  No one would begrudge any musician who could easily create his own playing opportunities to take full advantage of the situation, yet Joon humbly and heroically has constantly deferred to the considerations of the community he seeks to support.  How can it be that someone who loves to sing almost never sings in his own club?  Joon is an excellent musician, with a strong, supple voice and an incredible ear for melodies and ideas.  His recent album with pianist Vardan Ovsepian (entitled Now) is a tour de force of intricate but impassioned singing, often in unison with the piano over quick passages of chromatic melodies in odd-time signatures.
Joon has recently been working in a new band, one that is very unconventional (and difficult) for a vocalist.  Bassist Putter Smith has been a musician in Los Angeles for five decades, an astounding feat on its own but made extraordinary by whom he's actually played with: Thelonious Monk, Art Blakey, Billy Eckstine, Ray Charles, and Dexter Gordon, and on and on.  As you can imagine he's one of only a handful of bass players alive today who can boast that resume, but his true claim to fame would of course not be from jazz but from playing a villain in a James Bond film.  Which one of those two things is something you'd like to say you did?  Rounding out the trio is master composer/arranger, trombonist and educator Joey Sellers, who has inspired countless musicians through his compositions and his imaginative playing, and through his work as Director of Jazz Studies at Saddleback College in Mission Viejo.  As someone who received the Gil Evans Fellowship in Jazz Composition, and composed and/or arranged for the likes of Doc Severinsen, the Lincoln Center Jazz Orcherstra and symphony orchestras around the country, Joey is often seen in larger ensemble settings, yet this group offers him the opportunity to showcase his more personal, spontaneous nature which is undoubtedly the impetus for his adventurous writing.  Overall, Joon, Putter and Joey have a thing which is all their own and a lot of fun.
Peter Schlamb Group
Schlamb, vibraphone
Karl McComas-Reichl, bass
Sean Mullins, drums
One of the things we've done and hope to continue to do at these festivals is to add an occasional artist from somewhere other than LA to participate in the cross-sharing of music.  Our most recent out-of-area performers were the guitarists Gilad Hekselman and Jonathan Kreisberg, the latter bringing with him the fabulous alto saxophonist Will Vinson.  This time around we are happy to be presenting vibraphonist Peter Schlamb, a native of the Midwest (where he met Matt Otto) and currently active in New York, where he has been working with New York heavies like Mike Moreno, David Binney and Logan Richardson.  Peter is on tour in support of his new album, Tinks, featuring Karl McComas-Reichl on bass and Sean Mullins on drums, both of whom will be performing with Peter at bluewhale.
Michael Mull Octet
Michael Mull/Frank Silva, woodwinds
Harrison Kirk/Will Wulfeck, trombone
Gregory Uhlmann/Max Gualtieri, guitar
Emilio Terranova, bass
Brijesh Pandya, drums
One thing that makes it difficult to sustain any kind of quality jazz scene in any community is the attrition of talent to other locales, and by other, I mean New York.  The big move to the Big Apple probably will (and probably should) always be the ultimate goal for aspiring jazz musicians looking to succeed at the highest level, and that's how it's gone for virtually every great jazz musician from Louis Armstrong to Dexter Gordon to Charlie Haden.  Given that, what we hope to see and are starting to see are promising young musicians from Los Angeles making an alternate choice.  Composer and saxophonist/clarinetist Michael Mull is a harbinger of one of the more exciting developments in jazz in Los Angeles, in that he is part of a significant number of very talented jazz artists who are committed to staying here and seeing if it's possible to survive as a creative musician.  Michael sports an impressive pedigree with degrees from two of the finest jazz colleges in town, CalState Northridge and CalArts, and he has made a splash in Los Angeles with the debut of his working group, an octet which showcases his exceptional compositional and arranging acumen.  Those skills were enough to get Michael back to his old alma mater CSUN, this time on faculty as an instructor of jazz arranging.  Through his ensemble, one can hear the collision of all of Michael's influences, from classic rock to Miles and Monk, to Messhuggah and Bulgarian women's choir.  It's truly one of a kind and very exciting to hear this music coming from a home-grown product.
http://youtu.be/C2uu3hwLPXE
It's a fitting ending to close our two days of music with Michael Mull's band, because in a way he sums up what our entire festival (and indeed, our organization as a whole) represents:  Artists who call Los Angeles home, engaging their peers to form a community with a collective purpose, calling attention to everyone in and outside of the city that yes, there is something exciting happening here.
---
LAJC Summer Festival (Part 1)
Saturday, August 23 9pm
bluewhale
Leonard Thompson Trio
Darek Oles Tribute to Charlie Haden
Matt Otto Group
Daniel Rosenboom Quintet
Yes, we have four sets.  Can you handle it?  Keep reading for more info on all these wonderful performers.
Leonard Thompson Trio
Thompson, piano
Darek Oles, bass
Mark Ferber, drums
We are happy to welcome Leonard back to perform one one of our events.  Originally from Capistrano Beach CA, Leonard has spent the last twenty years as an active performer in San Francisco, New York, and Los Angeles, working with artists all over the jazz spectrum from Eddie Marshall to Cleo Laine.  Leonard is an exquisite pianist and an insightful composer, and he has a new album out, entitled Wayfarer, with bassist Ryan McGillicuddy and the incomparable Mark Ferber on drums.  We're also thrilled to have Mark play with Leonard and Matt Otto this evening.  Ryan McGillicuddy was having an increasingly great career here in LA before he moved to Korea with his family, and so he's unable to join us for this show.  In his stead we are glad to welcome Darek Oles to complete Leonard's trio.
Click here to listen to a sampling of Wayfare.
Darek Oles Tribute to Charlie Haden
Oles, solo bass
Speaking of Darek, it's always an honor to have in our lineup perhaps the best acoustic jazz bassist on the West Coast.  Darius Oleszkiewicz has been a mainstay in the jazz scene in Los Angeles since 1992, when he became perhaps the only music student at California Institute of the Arts to be offered a teaching position immediately upon graduation.  Darek would go on to play for a who's who list of jazz, including Billy Higgins, Charles Lloyd, Pat Metheny, Peter Erskine, Bennie Maupin, and Brad Mehldau, just to name a few.  CalArts obviously knew what a treasure they had in Darek, a sentiment confirmed when he inevitably became the bass instructor of choice for many LA-area colleges, including USC, UC Irvine, and CalState Northridge.  The word that most players use to describe Darek is perfect, perfect intonation, perfect time, perfect bass sound, perfect note choices, and perfect melodic construction.  Many of those things were also used to describe Darek's own teacher at CalArts, the legendary and now immortal Charlie Haden, who tragically passed away last month after a heroic struggle with late-stage polio.  There might not be another bass player who has gleaned the essence of what made Charlie so great and incorporated the best things about him so completely and beautifully.  If there is one reason to attend this night of the festival, it would be to witness this solo bass set by Darek for Charlie.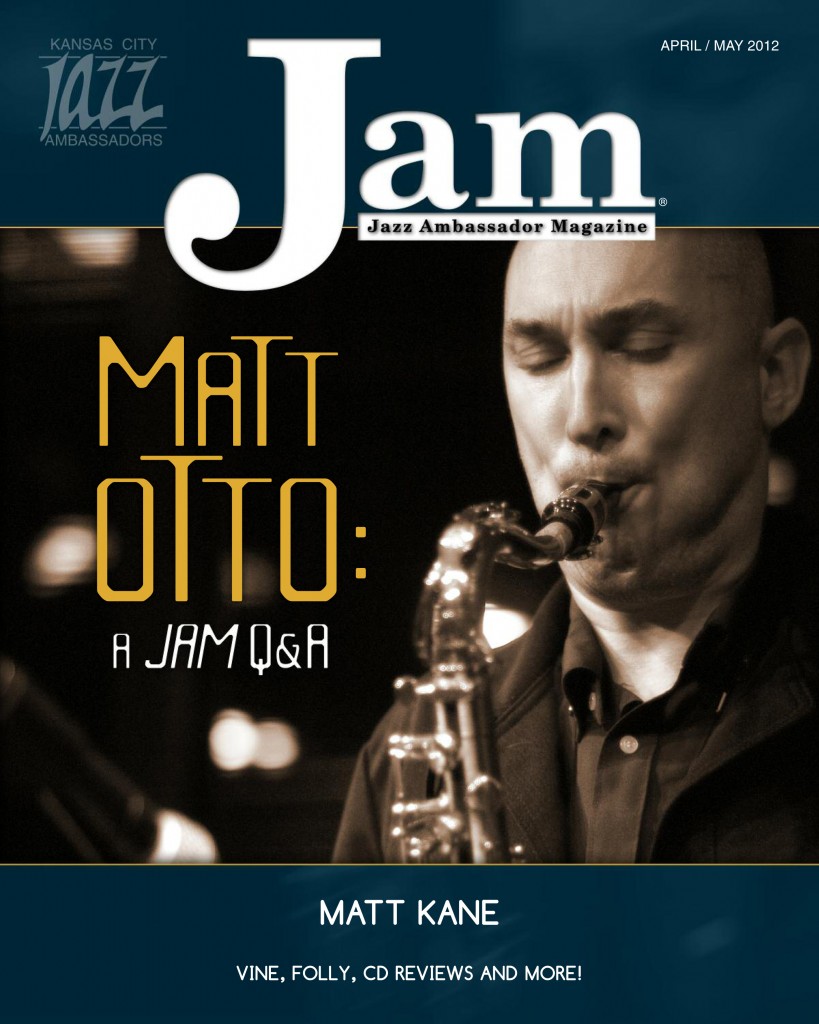 Matt Otto Group
Otto, tenor saxophone
Michael Mull, alto saxophone
Steve Cotter, guitar
Gary Fukushima, piano
Darek Oles, bass
Mark Ferber, drums
It was a sad day in Los Angeles for the Collective and the jazz community when Matt Otto left for greener and more wide-open pastures in Kansas City.  Matt was the visionary behind the creation of the Los Angeles Jazz Collective, as a way to create and foster a community of musicians who cared foremost about art and creativity.  In Hollywood, the music capital of the world, it can be hard sometimes to maintain such a high standard of artistic integrity, but Matt has done so throughout his life, and carried his vision on to Kansas City, where he continues to inspire and influence musicians.  Matt seemingly has no limit to his creative output, and he has a number of new projects, most notably a new trio album with longtime musical soulmates Jamie Rosenn on guitar and Jason Harnell on drums, altogether known as JoE-LeSs shOe.  (You can hear them the day before our festival on Friday night, also at bluewhale.)
Matt has also enlisted the services of Darek Oles and Mark Ferber, and added to that immaculate tandem guitarist Steve Cotter, Matt's longtime friend and colleague, who recently has been touring the world with organist Joey DeFrancesco.  I'll be playing piano, and joining Matt's band for the first time will be alto saxophonist Michael Mull, a thoughtful and dynamic improviser, and a masterful composer/arranger in his own right, as you can see on night two of our festival when Michael performs with his own octet.
Here's a video of Matt's group:
https://www.youtube.com/watch?v=BsYRL7J4O68
Daniel Rosenboom Quintet
Rosenboom, trumpet
Gavin Templeton, alto saxophone
Alex Noice, guitar
Kai Kurosawa, Bear Trax
Dan Schnelle, drums
It's very exciting to have this last group on board for our festival.  Daniel Rosenboom has taken some extraordinary steps towards realizing a key goal shared by the LAJC, that is, to provide a forum for creative musical artists to showcase their unique works.  Dan is the founder of Orenda Records, a homegrown label that finds deserving artists and strives to "immortalize their deepest expressions in high fidelity".  Sounds good to me.  In the span of less than a year, Dan has managed to create a significant amount of buzz regarding his pet project, enough to draw the attention of music impresario Rocco Somazzi, who swiftly and shrewdly made Orenda a presenting partner in the upcoming Angel City Jazz Festival.
Even before Orenda, Dan was an artistic dynamo, churning out no less than eleven of albums as a leader or co-leader, each of them radically unique, but all of them unified in freedom of structure and focused intensity.  His latest project is called Fire Keeper, an homage to the music of his coming of age, where the music viscerally projects its undeniable rock sensibilities, yet delves into some incredibly tricky conceptual issues beneath the surface.
Dan is joined by all the original members of his quintet; the fiery alto saxophonist Gavin Templeton; guitarist Alex Noice, who has the brain of a jazz musician and the balls of a glam-rock shredder; Kai Kurosawa, who wields a custom-built twelve stringed Klingon-ish looking weapon called Bear Trax; and drummer Dan Schnelle, who is one of the premier modern jazz drummers in this city.  Collectively they have the potential to make the stage burst into fireworks, which is what is expected at the end of a long day of festivities.
Here's a video of the incendiaries:
This makes for an exciting day one, doesn't it?
---
by gary fukushima
LAJC Summer Festival
Saturday August 23
Sunday August 24
both shows start 9pm
bluewhale
A few years ago I had the honor of playing music with the actress Marilu Henner, whom some of you (and by that I mean those of you born before 1980) might remember as Elaine, the gorgeous redhead on the hit TV series 'Taxi'.  In Los Angeles, it's not necessarily extraordinary news when anyone gets to perform with a celebrity.  What is extraordinary about this is we were performing at a fundraiser for the Department of Neurology the University of California, Irvine.  Ms. Henner had been the subject of some extensive research by the university for a rare condition she had, called 'Perfect Autobiographical Memory".  The actress had the ability to recall virtually every event from every moment of her entire life.  You could call out any date from all the back to Marilu's childhood, and she could tell you what she had for breakfast that day, what she did and who she met and what she said to them.  It's totally freaky and awesome, and probably annoying to no end.
I only bring this up to contrast Ms. Henner's memory with my own, which is really terrible.  I can't remember what I had for breakfast yesterday.  I forget people's names as soon as they utter them.  Just now, I even had to look up the name of whatever the real name of that girl from 'Taxi' was because I forget her name was Marilu Henner.  Bless you, internet, for saving me from a lifetime of dysfunctional forgetfulness.
Those first two paragraphs came about because I was on the internet trying to remember when our first LAJC festival was, and as I was thanking the internet for saving me from a lifetime of dysfunctional forgetfulness, I somehow happened to remember my encounter with someone who never has to try to remember anything.  If I had Marilu's memory I now would have thirty more minutes of my life than I currently own.
Okay, back to my original point.  Our first festival was, unbelievably, six years ago, on April 4th and 5th in 2008.  That was a long time ago, and so much has happened in that span, wonderful things which have transformed the landscape of jazz in Los Angeles.  There is so much music happening all over the city, played by an ever growing multitude of incredible talent, with a variety unlike anything we have had before, from faithful renditions of jazz from earlier eras to strange Frankenstein-ish pieces sewn together from various parts across the musical spectrum.  There are many different scenes of musicians and fans of those musicians.  It's an exciting time to be a musician in this city.
Given all the good developments, it might be hard to remember the pervading attitude of jazz in Los Angeles not even a decade ago, when there seemed to be almost no opportunities to play creative music anywhere in the city.  This is what I wrote back in 2008:
I am proud to announce the birth of an organization that I hope will be part of an important movement in the city of Los Angeles towards the promotion and celebration of creative improvised jazz music by some of our finest composers and improvisers.
May I present to you: The Los Angeles Jazz Collective.
The LAJC is at its core a group of jazz musicians who have decided to pool our resources and talents to come up with ways to think outside the usual boundaries that confine jazz musicians, who are often faced with the choice between playing standard tunes in crowded restaurants and banquet halls where no one is listening, or playing a late set to six people or less on an off night in a small jazz club or even worse a seedy rock n' roll club that needs to do jazz occasionally to satisfy its entertainment license requirements. Many talented jazz musicians are dying a slow death as they are ripped in half by these two inevitable scenarios.
Part of the dilemma lies in the paradoxical nature of the genre of jazz music itself. It's association with swing bands and supper clubs makes it too casual to be considered art by most arts organizations, yet the ever-increasing complexity of harmony and rhythm in jazz makes it too "artsy" for the mainstream music industry. Having been bastardized by both the music industry as well as the artistic community, many jazz artists are indeed orphaned, left to freelance and fend for themselves, teaching lessons and picking up whatever gigs they can. This is a toxic environment that could squeeze the creative soul out of nearly any artist.
Well, that was perhaps a little more dark than I intended, but the LAJC is committed to bringing some light to this situation by becoming an organization that will be an advocate for the talented, creative jazz musician. We hope to provide a forum for jazz musicians to showcase their talents and inform the general public about some of these extremely talented yet relatively unknown artists. We plan to do this by hosting regular events, collaborating with great jazz musicians both locally and from out of town, supporting and promoting talented students from our local colleges and high schools, and having the occasional festival…
…the first of which is happening this week.
And with that, we were off and running, on our own personal mission to 'save jazz' in LA.  Our first festival, held at the Pasadena Jazz Institute and Cafe Metropol, was a smashing success with standing-room only crowds boisterously applauding our efforts.  I don't think it's a stretch to say there were more than a few musicians (participants and listeners alike) who came away from the weekend feeling more encouraged, and more whole.
For the record, I do not think the Los Angeles Jazz Collective could do anything as outrageous as to single-handedly Save Jazz In LA.  If there's anything to be learned from the history of this music it would be its penchant to survive and adapt to the changing societal environment which seems intent on killing it.  Jazz adapts much faster than the sluggish trolls who continue to proclaim to the world that JAZZ IS DEAD.  (One such article appeared in the Washington Post just last week.  I'd link to it but it's really not worth the two seconds it takes for the page to load.)  Jazz will continue to defy its detractors, and I have become more convinced that its defiance is also what defines it, born out of the cruelties of prejudice and enslavement, refined and modernized by those who belonged to the wrong end of an in-equal and unjust society, and transformed into the most sublime of art forms when an entire nation eschewed it for the easy digestion of popular song and dance.
Jazz is doing just fine, thank you, but one can't really say the same for the vessels who carry this living water of improvised inspiration.  Musicians are as talented and as creative as they have ever been, and as a whole they are probably as impoverished as ever.  An artistic soul is often a malnourished one, and it pains me to see the numerous posts of excellent and notable artists who are looking for additional students or other solutions to generate more income.  One of the long-term goals of the Collective is to find ways to connect artists to sources of funds, through grants, donations, workshops, and concerts.  Our belief is that if there are ways to make the art-making economically viable, the result will be more art.  We have taken the first steps towards realizing that goal by applying for non-profit status.  As a non-profit organization we hope to be the sort of entity that can eventually raise enough funds to provide financial assistance to worthy jazz artists.
In the meantime, we will keep soldering on, putting on these occasional festivals, which have always addressed our primary goal of creating a stronger jazz community in Los Angeles.  With all that is happening in the city these days, it's a delightful challenge to reach out and connect with new and exciting players and bands.  In a little over a week, we will present what we hope will be the start of a more frequent occurrence of trying to get a high concentrate of artists all in the same place at the same time.
Over the next few days I'll be writing additional posts focusing on the groups participating in our upcoming festival.  I'm excited for each of these groups and can't wait to see all them.  I hope a few of you come out and celebrate the non-death of jazz, in remembrance of that which is still very much alive.
---